Your reported red and grey squirrel sightings play a very important role in our conservation work, as explained below.
To report a squirrel sighting now, our easy-to-use online reporting form is available here>>
---
If You Find a Sick or Dead Red Squirrel
If you come across a sick or injured red squirrel, or if you find a dead red squirrel showing signs of disease or one that does not seem to have died in a road accident or from another obvious injury, please contact us immediately on 07836 584201 or 01539 552340 or try the other numbers on our contact page>>.
If you find a red squirrel killed in a road accident or by some other obvious injury we'd still like to hear about it. Please report it as a red squirrel sighting, with an explanatory note in the comments section.
Red Squirrels Northern England has published an advice note about reporting dead red squirrels>>
---
About Red Sightings
Your sighting reports help us to track progress as red squirrels reclaim their old territories, and to check that they are still present in areas where they are already established. Without your help this would not be possible – red squirrels are not easy to spot, and we can't monitor all the places that you know and visit.
If you see red squirrels regularly in one place, we'd be very grateful for a sighting report about every 3-6 months, and to hear if anything unusual occurs – two seen together can indicate a breeding pair, three or more might be a young family.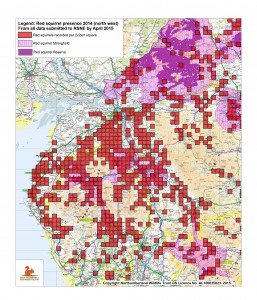 All red squirrel sighting records are forwarded to Red Squirrels Northern England to be included in the regional database, and we put a red marker for your sighting on our current Red Squirrel Map>> (not including your personal details).
Red Squirrels Northern England combine sightings data supplied by all the local voluntary red squirrel groups with data from their own monitoring programme and rangers to produce maps showing recorded red presence. This 2014 map shows recorded red presence in Cumbria. Click on the map to see more detail.
If you have red squirrel photos to share, we'd be delighted to see them. Quality is not important as long as you can see it's a red squirrel, and we'd appreciate your permission to use in our publicity – please email to: sightings@westmorlandredsquirrels.org.uk
---
About Grey Sightings
Your grey squirrel sighting reports help us to build a picture of what is happening and prioritise our work. We are particularly interested to hear where grey squirrels are being seen regularly over a period of time – from single squirrels visiting gardens through to larger numbers occupying areas of woodland or similar.
Reports of grey squirrels spotted just once add to our knowledge of the ever-changing grey squirrel situation, and are of particular importance where grey numbers are very low – for example in the Rydal, Loughrigg, Elterwater area, or in other areas where they are not normally seen. Contact us if you would like to know more about what's happening in your area.
All grey squirrel sightings are forwarded immediately to our relevant area co-ordinator, who may contact you for more information. How we can react to your grey sighting information very much depends on where your sighting is, the time of year, whether we have access to land and other factors – and the situation is ever-changing.
If you live locally and can help us by keeping an eye on the grey squirrel situation around where you live, or in woods that you visit regularly, we would be very pleased to talk to you.