Rusland's Reds is a project we're leading to promote the recovery of red squirrel populations in the area between Windermere and Coniston Water. Between 2016 and 2019, this project formed one component of Rusland Horizons, a wide-ranging, community-based Heritage Lottery-funded landscape scheme put together by the Rusland Valley & Fells Landscape Partnership. This built on an earlier 2 year Heritage Lottery Funded project based in Grizedale Forest.  You can read about it here>>
Work began in earnest in September 2016 monitoring existing red and grey squirrel populations, controlling grey squirrels and establishing a long-term commitment by residents to protect their red squirrels in years to come.
Between 2017 and 2019, the public reported more than 30 red squirrel sightings in the area. Now, we're encouraging local people and visitors to report what they see through a family friendly leaflet, fact sheet and reporting form. These are available at the Grizedale Visitor Centre, the Graythwaite Estate's shop and holiday cottages.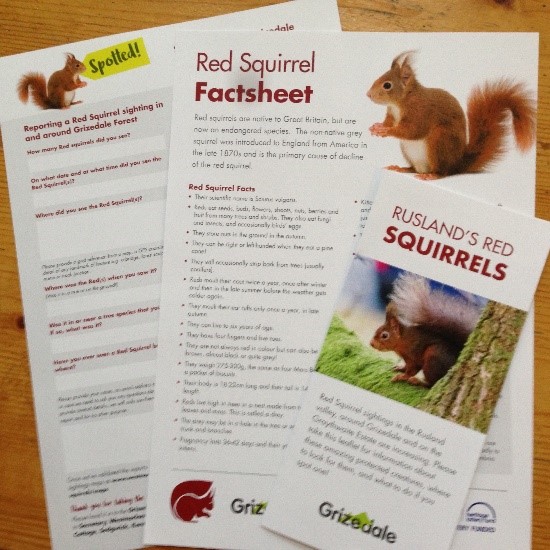 You can download them here:

Rusland Reds' Leaflet

Rusland Reds' Fact Sheet and Report Form
We have been grateful for financial support from Forestry England, Graythwaite Estate, Lake District National Park Authority, the Rawdon-Smith Trust, the Coniston 14 charity event, Logs Direct>> at Halton and the John Strutt Conservation Foundation>>. Without this support we would be unable to sustain the project now that Heritage Lottery funding has expired.
If you are interested in knowing more or getting involved find out more from the Rusland Horizons website or contact our Secretary at: